Following Green Day's 21st Century Breakdown World Tour
Updated: Apr 5, 2019
To this day, I still get chills when I hear the intro to 21st Century Breakdown. I can still see my favourite band, as if in slow motion, running onto that stage like the heroes they were to 14 year-old me. I can see Mike thumping his heart and Tré sitting to play the show's first beats. I can still feel the unbridled joy, the disbelief and looking back, how my life changed in that very moment.
This tour was arguably the biggest act of Green Day's career. It was also the biggest turning point in my own life.
If you've read my Italy recap, you know I was unwell when I saw Green Day for the first time. For three years I'd barely left the house. I never went to school. My hope for the future was gone. While my single mum worked herself to exhaustion to support us both, my only company was Green Day's music.
21st Century Breakdown, bringing with it the excitement of a new era, inspired me. I wanted to be like Gloria. I wanted to be able to say, one day, that I'd found a home in all my scars and ammunition and I'd never put away my burning light. Through that, I found hope. For the first time in years, I had a purpose. I could see a light at the end of the tunnel.
'Gloria is a person that's trying to hold the torch for staying inspired, even as you lose a certain sense of your own naivete.' – Billie Joe Armstrong, Radio NRJ, 2009
The first British dates for the 21st Century Breakdown Tour were announced later that year. My mum, as big a fan as me, bought tickets for four shows. I didn't know if I could even go. After all, I could barely leave the house. How could I stand in a crowd of 16,000 people?
Before we knew it, we were in our Green Day shirts on the bus to the station. The local bus was one thing. A train to Birmingham, an unknown city, was a different story. I felt painfully obvious, like my illness was on display for everyone's amusement. Of course, it was all paranoia. There was no one lurking to laugh at me. But either way, my love for my favourite band was stronger than my fear.
We got off the train at Birmingham Airport. It was quiet. Past a lake was our hotel. To its right was the LG (now Genting) Arena, white against the overcast sky. We checked in and wandered. Kids with multicoloured hair sat on the cold concrete, lining up to secure their spots in the pit. A line soon formed for seats. No one needed to join that so early, including us, but we were too excited not to. The arena's walls were pink inside. We bought shirts and went to find our seats. It was when I looked at the stage, saw the album art I loved so much there, it suddenly became real.
My now well-worn shirt from my first show
Prima Donna were supporting. They opened with the jingling piano of Soul Stripper. Singer Kevin Preston soon tossed his leopard print jacket aside. Their glam rock sound kept the crowd entertained and dancing while they waited. My chest was tight after their set. Not because I was afraid – because, to my surprise, I wasn't. As the drunk bunny stumbled around to YMCA, it was sinking in that all the live videos I'd watched of a show that seemed so far out of my reach… I was about to experience that for myself. The bunny was gone. The Ramones' Do You Remember Rock 'n Roll Radio? played. Then the crackling static that introduced Song of the Century echoed through the arena. The crowd of 16,000 sang along in unison. My heart was pounding with the first chords of 21st Century Breakdown.
Tré Cool ran onstage. The Big Three. Mike Dirnt. Then, finally, Billie Joe Armstrong.
With flicks of his wrists he drew roars from the crowd. My voice was another scream in the tumultous applause. The crowd clapped along with Tré's hits of the bass drum. With exploding pyros the show began. I was screaming my favourite lyrics, the words that lifted me from stagnation, back at my favourite band. Billie Joe commanded us all to stand up. We already were, clapping as if our lives depended on it. Green Day's ferocious energy reached from the front row to the highest tiers. In my seat that looked down on them as specks, I felt as part of the show, the mass of bodies obeying Billie's every command, as I ever have on the floor since. It was a sense of belonging. A sense of acceptance. I felt understood. I knew I, like the other 15,999 people in that room, mattered.
Photo by Rob Ball, another fan coincidentally sat a few seats from us at two shows. We bought them from him afterwards.
The first fan was pulled onstage in Know Your Enemy. He staged dived to the pyros. Their sound was all enveloping, like a pounding warmth that attacked every cell. Everyone, on the floor, in the seats, was dancing. We repeated Billie's 'whoa-oh-oh-oh-oh!' to East Jesus Nowhere religiously. In the bridge he announced he was going to 'save' someone from the crowd. He stubbornly made his way up into the seats, heading for a young girl called Catherine. There was a long exchange before he returned. Unsuccessful in recruiting Catherine, he called up his own 11 year-old son, Jakob Danger (ensuring we knew his middle name was Danger). Jakob obediently waved his arms before allowing himself to be 'saved.' The crowd chanted his name while Billie sang 'the sirens of decay will infiltrate Jakob!' and he fell to the floor. Once the song ended, he tried to make a quick escape. Billie announced 'hey, where are you going, Jakob, you little shit? Come here for a second!' and promptly planted a kiss on his forehead.
'Alright, see you later. That's Jakob – Danger – Armstrong! Danger is his middle name.'
Jakob Armstrong onstage with dad Billie Joe to be 'saved' in East Jesus Nowhere. Photo by Rob Ball.
Then Billie yelled 'do you wanna start a fucking war?' and the show resumed with Holiday. Watching Bullet in a Bible, it was hard to imagine how chanting 'hey! Hey! Hey! Hey! Hey!' back at Billie in the bridge really felt. It was like a reeling high. As we screamed along to 'the static aaaaa-aaaaaa-age!' I just couldn't believe I was there. The sweltering heat and my hoarse voice were reminders it was real.
Back then, we weren't looking at setlists. My mum had no idea they were about to play one of her all-time favourite songs – Give Me Novacaine. I can still see the disbelief on her face. After all those years, working so hard she could barely wake up, she was free. Billie even announced that he was now one of us:
'We're still alive, Birmingham! It's been a long fucking time, goddamn I'm so fucking happy to be back in England, you have no idea. Goddammit I'm fucking moving here, fuck this shit, I'm fucking moving. Packing my bags, I'm gonna get on a big old fucking aeroplane, I'm gonna take all my shit across the pond, and I am officially fucking English as of now! I'm bringing it back home!' – Billie Joe Armstrong, October 27th, 2009.
Another fan came up for Are We The Waiting. With a disco ball reflecting skulls around the room, it was like being in the starry nights, city lights coming down over me. It was anthemic. That dirty town might as well have been burning down in my dreams, because nothing mattered but singing at the top of our lungs. The world outside was irrelevant.
Photo by Rob Ball
Billie darted around the stage to St. Jimmy. It was more ferocious, more passionate than I could have imagined watching videos. The crowd was deafening through Boulevard of Broken Dreams. Then they burst into Murder City, a performance that was recorded for GreenDay.com. I didn't expect that and I was thrilled. I was even more thrilled when, two songs later, they played At the Library. People were confused, wondering if this was a new song. We were the only ones in our block screaming every word. Now I wasn't just seeing Green Day. They even went and played At the Library and Murder City.
Green Day playing At the Library in Birmingham. Photo by Rob Ball.
When I Come Around's old-school charm wasn't lost in the dazzling show. Dancing to Brain Stew and Jaded, I didn't feel I'd missed a thing by hearing them live 14 years after their release. Green Day were every bit the band they were in the 90s – except even more energetic. Everyone around us, young or old, was jumping.
As Knowledge came to a close, Billie announced a band of fans would finish the song. He sought out a drummer first. I was a drummer. I'd bought a poster before the show, which up until this point had been inconvenient. Without thinking, I waved it around. Then Billie was actually looking at me, pointing up into our seats like he did with Catherine. There was an exchange with security. Then I chickened out. I put the poster down. Looking confused, he went to find a bassist instead. Maybe he wouldn't have picked me, even if I'd had the balls, but it's still sort of funny.
Basket Case and She followed. The hits were every bit as invigorating as the rarities. The extended King for a Day, with all its goofiness, floor-humping and cover snippets, was a fun and amusing break in the intense set. Could anything top At the Library? Probably not.
'It's not written for two people. It's written for about 20,000.' – Billie Joe Armstrong on 21 Guns
Or so I thought, until King for a Day's silliness faded to 21 Guns. I already loved this song. The music video was my all-time favourite. But I could never have imagined its rawness live. I was moved beyond words as I watched the fire rain down to 'as a liar looking for forgiveness from a stone!' and Billie's added 'whoa-ohs' that seemed to come from the depths of his heart. Following that was emotional piano absent on the studio version. The band were silhouetted against the music video playing on the screen behind them. I might have been crying. I don't remember. Billie described 21 Guns as not being written for two people, but 20,000. He was absolutely right.
21 Guns. You can see everyone dancing in the seats opposite us! Photo by Rob Ball.
Then the show was uplifted again with Minority. Billie thanks every crowd countless times after the solo, but each word remained sincere. Blue and white confetti burst from the stage, sprinkling the crowd as the song closed.
Green Day confetti during Minority. Photo by Rob Ball.
Jesus of Suburbia. Photo by Rob Ball.
Finally, with American Idiot and Jesus of Suburbia, the show too was coming to an end. The crowd, drenched in sweat from the pit to the seats as if at the end of a journey with the band, watched the inimate Last Night on Earth, still and in awe. Billie began with an acoustic guitar. We didn't yet know that with lights flooding the darkened stage, the full band would return. An emotional Wake Me Up When September Ends followed. Good Riddance (Time of Your Life), a hate song turned revelling closer, ended the set. The band bowed and waved. It was over. We charged down steps to scoop up confetti from the floor, filling two tissue packets before security chased us off. Green Day played hundreds of shows every tour. Yet this, my first show that to anyone else was just another city on a list of tour dates, was still so special. That, how every show is a precious memory to be treasured forever, is why I follow Green Day on tour.
Tré Cool tweet about the Birmingham show
We prepared to do it all again the next day. This time our seats were closer. My new-found wellness could stretch so far, though. By Holiday, a panic attack so bad I was throwing up left me listening to East Jesus Nowhere from the toilets. First aid sat me beside someone with a broken leg. There was nothing they could do. I remember passing the back of the pit, seeing the crackling gas mask image in The Static Age. As When I Come Around echoed from inside, drunks assured me I wasn't missing anything, because Green Day suck now. It was almost comical. I didn't want to leave, but I was too sick to stay. We returned to the hotel. It took a while, but I convinced my mum to go back. Arriving to Billie humping the floor, she recorded 21 Guns for me and saw American Eulogy, Christie Road and Macy's Day Parade.
It was a huge setback. I was more afraid than ever to go on to Manchester. But maybe it had to happen, because it also strengthened my resolve. Mental illness would not take my favourite band from me. It could have my future, my dignity, but not my spark of hope.
We arrived in Manchester. On the bus to our hotel, we met another mother-and-daughter pair on their way to the show. I stuck six A4 sheets together to make a 'PLAY ¡VIVA LA GLORIA!' banner before we left.
The Manchester Evening News Arena from the bus. This is a terrible photo, but this view was so exciting at the time!
My ¡PLAY VIVA LA GLORIA! banner
This time our seats were on Mike's side. Watching Prima Donna and the drunk bunny, I was nervous. But once I heard those opening chords of 21st Century Breakdown, saw my heroes run onstage, I knew I would be alright. I knew whatever plagued me in Birmingham, I had overcome. The songs I was hearing for a second, third time were as fresh as ever. Those I heard from outside in Birmingham were even better knowing nothing could take this from me.
Billie with seated fans during Know Your Enemy and East Jesus Nowhere. Photo by Rob Ball.
Security followed Billie as he ran up into the seats in Know Your Enemy and East Jesus Nowhere. In Boulevard of Broken Dreams, he announced he'd split his pants.
'Did anyone see my balls?'
Boulevard of Broken Dreams. Photo by Rob Ball.
After Boulevard of Broken Dreams, I held up my banner. Billie stopped and squinted. People around us were screaming 'he's seen it, he's seen it, he's seen it!' and he pointed before yelling into the band mic. They began 2000 Light Years Away. The guys behind us were laughing, saying he misread it. I have no idea if it was really anything to do with my banner, but it was funny either way – and thrilling since they weren't playing that regularly at the time.
Oldies section. Photo by Rob Ball.
Hitchin' a Ride was followed by Coming Clean. It was a furious performance of a poignant song. I'm sure there was the odd homo/biphobe in that crowd, but everyone was dancing. This time, I noticed a stencil of Gloria was the backdrop for She. With that, the 15 year-old song joined the narrative of 21st Century Breakdown. In King for a Day, Billie sang snippets of Stand By Me, I Fought the Law and Champagne Supernova. 21 Guns remained as emotional as that first night. Maybe even more so. Because, though I hadn't quite figured out what yet, I knew something was worth fighting for. That bridge was my favourite moment of every set.
Confetti in Minority
It was all surreal. Watching the confetti spray out again; hearing a passionate Jesus of Suburbia and seeing the show close, lights dimmed and band bowing, with Last Night on Earth, Wake Me Up When September Ends and Good Riddance.
The show closing with Good Riddance. Photo by Rob Ball.
I'd reclaimed my missed show. I would reclaim it even more if I made it through the second night.
'I like playing big places a lot. We got a chance to be playing these arenas, and I'm really grateful for that. I'm not going to sit here and say "fuck our fans, man, they're not true Green Day fans because they heard us on MTV." These people are paying to see me play. A lot of those kids have never heard the kind of music we play before, and a lot of them are from somewhere where there's a single parent that works their ass off to give them $12 to go out and see us play our show. The last thing I want to do is slag on them for coming out to our show. They made us as big as we are.' Billie Joe Armstrong, Rolling Stone Magazine, 1996
Green Day merch in Manchester
It was Halloween. I hung back while my mum looked at merch after Prima Donna. Music was playing inside. It sounded awfully familiar. Was I hallucinating? Because I was sure I could hear Stop Drop & Roll! I squeezed past people to alert my mum.
'Prima Donna are playing the Foxboro Hot Tubs!'
My mum stopped. Listened. Then her eyes widened.
'That's not Kevin, it's Billie!'
We saw this tweet later
My crappy photo of the Foxboro Hot Tubs
We ran from the merch stand to our seats. In our mad charge down the steps, we knocked over someone's beer. They just laughed. Steps buckled and we almost fell. Everyone around us, as we stumbled clapping and singing into our seats, looked baffled. The Reverend Strychnine Twitch, AKA Billie, sprayed Carling beer – a British replacement for his signature Pabst Blue Ribbon – over the front row. His blond head darted all over the stage. Tré wore a leopard print shirt and Jason a fluffy white coat. In Mother Mary, Billie threw down his tambourine to leap into the crowd. Security helped him back up.
'My name is the Reverend Strychnine Twitch and yes, we are the proverbial Foxboro Hot Tubs.'
The short set closed with Sally. Before we move on, I'd like to share another fan's recollection of this from the We Are Revolution Radio book. I don't think any trick or treat will ever match this for any of us!
Story by English fan redundantburnout from the We Are Revolution Radio book
The intro to 21st Century Breakdown still unleashed butterflies in my stomach. In Boulevard of Broken Dreams, Billie told us 'last night in the last song I split my pants. I did that splits thing and my whole butt was hanging out after that.' It was also the last outing of the leopard print thong. #blessed
That night, as 21 Guns faded to drum rolls, I expected Minority. Instead, in an explosion of pyros and energy Billie roared 'MASS HYSTERIA!' and I was swept up in exactly that; mass hysteria as I screamed along to one of my all-time favourite songs, American Eulogy, that I missed in Birmingham. In my own blurry video, I'm deafeningly loud as I bellow 'vigilantes warning ya, CALLING CHRISTIAN AND GLORIA!' over Billie's 'RIGHT HERE IN MANCHESTER!' It was unreal. Thousands of people were in a shared ecstasy conducted by a tight performance. We watched through moments of quiet while Billie stamped his foot to solos, basking in the band's talent and energy, religiously echoing 'heeeeeey-ooooohhhhhh' as Mike sang his last verse…
'I can hear the sound of a beating heart, it bleeds beyond a system that is falling apart, with money to burn on a minimum wage…'
…and we screamed in unison – 'I DON'T GIVE A SHIT ABOUT THE MODERN AGE!'
…and the song exploded into its final chorus.
'I don't wanna live in the modern world! I don't wanna live in the modern world! I don't wanna live in the modern world – MASS HYSTERIA! In the modern world – MASS HYSTERIA! In the modern world – MASS HYSTERIA! In the modern world – MASS HYSTERIA! In the modern world…'
Then the music stopped and 21,000 voices, alone with Billie's and Mike's, echoed that we didn't want to live in the modern world, mass hysteria… until Billie sang like an anthem, 'nobody likes you, everyone left you, they're all out without you, having fun!' over Mike and, as Tré conducted with his drumsticks, we joined him.
The world could have ended then and I would have felt the bricks crashing down were healing gold dust. I could hear the sound of my own beating heart. The heartbeat of a kid stifled by mental illness now impassioned, inspired and ready to smash the silence with a brick of self control.
'A lot of people were like, "you saved my life, you saved me from depression, you gave me hope." All these things – it sounds cheesy to sit there and say it, but it's true.' – Tré Cool, VH2 Dookie documentary
As we looked for our train home, my mum was, for some reason, driven to get on the London train. She insisted it was ours. I assured her it wasn't and even if we wanted to go and attend the Wembley show, after blowing our money on merch we had a grand total of 2p ($0.025). Turned out the Foxboro Hot Tubs played a secret show that train would've taken us to. Maybe she should've become a psychic instead of working for the UN.
I returned to school. Though I was advised not to take on more than English, Maths and Science, I insisted on taking Art, too. I didn't know what I wanted to do or who I wanted to be. But I knew now I wanted to be something.
My Green Day inspired GCSE art piece
'Being in a band, you have to be a fan first. So when you meet people who have something to say about how some song affected them, those are the people I connect with. I still am that person myself.' – Billie Joe Armstrong in Spin Magazine, 2010
We began selling our possessions on eBay. Bags of clothes and trinkets swamped our conservatory, where light for taking photos was best. With our meagre results, my mum's savings and some abandoned bills, we booked to attend four more shows – Hannover, Manchester, Glasgow and Paris.
This was my first time, at least that I remembered, leaving England. We could never afford holidays. So we landed in Hannover, Germany, on May 29th, 2010. Google Maps and internet access abroad weren't really things back then. We couldn't figure our way out of the airport. Expedia told us there was a train, but the ticket machines were broken. We ended up spending half our money on a taxi.
Expedia also boasted that Hannover Expo Plaza was full of things to do and a short train ride from Hannover Zoo. We arrived to a barren square of closed-up shops. Hannover Zoo might as well have been on the other side of Germany. The only shop was a distant gas station. We had two days until the show. It resulted in us aimlessly wandering around and filming a variety of videos whirling round on chairs and dancing in the hotel room. The most exciting moment was spotting some Green Day merch and a poster through a window.
Enjoying Hannover Expo Plaza
On the day of the show, we awoke to another day of Expo Plaza fun to find some American band parked outside the hotel. There, we met another British fan, Kate. Her ticket was coincidentally just two rows and a few seats from us.
Because there was so much to do in the area, the three of us hung around to see if the band didn't mind meeting fans. We didn't meet them, but we did meet a lovely German mother and daughter, Julia and Iris and an Italian fan, Silvia. We also met some guys who climbed on our shoulders to let us know the band didn't care about us.
Before the show in Hannover
As doors approached, we waited nervously with our tickets. Inside was a display promoting Green Day Rock Band, where kids tried out the 'instruments.' Then we filed in to find our seats. Julia and Iris were on the opposite side to us and spotted our Union Jack flag. Next to us was a Welsh solider stationed in Germany, who never missed a local show.
Fans playing Green Day Rock Band at TUI Arena, Hannover, before the show
German band The Donots opened. They were great. Then we waited, with excited butterflies, to be enraptured once again by our favourite band.
When my mum hears the 21st Century Breakdown intro, it's this show she remembers. Billie running onstage in his red jeans, pointing at our flag, Tré sitting and blowing her a kiss, the pyros and city backdrop the band were silhouetted against.
'Dream, Deutschland, dream, I can't even sleep, the light's early dawn!'
Mosh pits formed and crashed together as songs rose and dropped. They played Nice Guys Finish Last. Both of us were jumping up and down, pushing each other and dancing in our seats. The intensity between the band and the crowd was something else. I laughed at my mum and Tré's interaction. I cried to 21 Guns. I was there, in Germany, another country, seeing Green Day. Billie didn't sing 'from Hannover to the Middle East,' but I did.
Before we left, my mum bought some tobacco at the gas station and accidentally thanked the staff, who worked through our broken German with us, in Spanish. At least we provided amusement. The airport bid us goodbye with 'see you again in Hannover – City of International Fairs.' I don't even know if the city is nice. We never saw it.
The excitement of seeing Green Day never changed. But there is just one thing about those first five shows I'll never get back. I didn't know anyone. I was just another fan. I hadn't acquired an array of stalkers and I was unaware of fandom drama and hierarchies. No one was waiting for me to do something, anything, wrong so they could flaunt it online. There are parts of this I'm hesitant to share because someone will take my vulnerability out of context to use against me. It's unavoidable when attending a lot of shows and having said all that, I willingly stuck myself in by making a documentary about it. Being oblivious was nice while it lasted, though.
When we got home, I saw an ad on the National Express website for coaches to the Wembley show. Well, if it was going to be that easy, we couldn't say no. We bought tickets.
Green Day ad on the National Express website
On June 16th, we boarded another train to Manchester. We were halfway when it occurred to me our tickets were open. We didn't have to go for the seats. What if we could make the front row? Catching a tram to the LCCC, we joined the line behind a group of blokes writing 'GEORGE' on everyone. The sun scorched the concrete. It was only after I agreed to become a George that I realised the sun would emblazon it over both of my arms. It was permanent marker. I couldn't escape my destiny as a George. Then a lady saved me with some breath freshener. My mum has carried breath freshener ever since.
The line at Lancashire County Cricket Ground
It was still light when doors opened. With a speedwalk across the floor we made second row on Mike's side. People around us had travelled from all over the UK. They were kind enough to squeeze me in. The girl beside me, who'd also been at the Birmingham shows, taught me how to hold a barrier spot. That was one of the closest things to this mythical 'punk spirit' I've experienced at Green Day shows.
Waiting for Green Day at Manchester LCCC
Frank Turner and Joan Jett and the Blackhearts opened. Then we waited for our first close-up experience to begin. The band ran onstage one by one. Up close, Mike looked perfect, as if someone had drawn him. Tré and the Jasons were unexpectedly petite. In Know Your Enemy, Billie ran all the way out to our side. He stopped in front of me and his face lit up as he pointed, looking surprised to see me on the front row. I can still see it now, preserved like a photograph in my memory. It meant the world to 15 year-old me that my hero remembered me, even though he'd only seen me from a distance in seats. Class lad, he is.
My first front row view
That was my first taste of the front row. It was also my first experience of petty catfights over front row spots, but I remember how in St. Jimmy, that all stopped; we were just one huge, thriving organism losing our minds to music, equal and united. People were being pulled out left right and centre. The heat was sweltering. Yet I loved it. I loved every second of being crushed and punched and my hair pulled. From that moment, seats would never be the same again.
'I swear to God I would never want to be in any other fucking band than Green Day. I swear to God. I hate when bands break up. All of my favourite bands, either someone died or they broke up. It's like your parents or something. But you gotta wheel me away in a fucking coffin to get me out of this fucking band, I'll tell you that.' – Billie Joe Armstrong, Lancashire County Cricket Ground, June 16th, 2010
I watched the show close with When It's Time with tears in my eyes. Singing 'we are all born in a world of doubt, but there's no doubt, I figured out I love you,' I was sort of speaking to myself, to my own life, knowing love was beautiful and real; and to my favourite band who reminded me how to love when I thought I never could again.
'I feel lonely for all the losers that will never take the time to say what's really on their mind; instead, they just hide away. Yet they'll never have someone like you to guide them and help along the way, or tell them when it's time to say I love you.'
Because, as I held my mum's hand threading through the crowd on our way out, my heart was fit to burst with all the love it held. I did feel lonely for all the losers who would never understand.
My arm
Green Day billboard at Manchester Arena
We went home and got straight back on the bus to Wembley Stadium. Doors opened as our bus pulled in. Knowing there was no hope for front row, we hung back, taking in the atmosphere of Green Day's biggest headline show so far.
'When I was a little kid doing air guitar to my favorite records I never thought I'd be doing it with an actual guitar in front of that many people.' – Billie Joe Armstrong, Kerrang, 2005
'Loooondoooooooooon!'
That yell of our capital city's name is on the following live album, Awesome as Fuck.
'Are you with me? Are you with me? This is what I need you to do. This is what I need you to do. When I say one, two, three, four – I want everybody to go fucking crazy! Are you ready? We are the class of, the class of 13, born in the era of humility, we are the desperate in the decline, raised by the bastards – ONE, TWO, THREE, GO!' 
It was like a call to arms. At each yell of 'jump, jump, go!' Wembley Stadium obeyed. The band radiated energy.
'Fucking Green Day is going to win the goddamn World Cup, I can tell you that now.'
For the first time since 2004, they played my mum's favourite song – Waiting. People stared bewilderedly as we lost our minds. We laughed along as Tré played Dominated Love Slave and Billie gleefully hit the drums.
Confetti fluttered into the night from Minority to Jesus of Suburbia. I remember looking up and seeing it floating above me; stretching out my hands to catch some. The show closed with When It's Time and Good Riddance.
Outside Wembley Stadium after the show
National Express buses after Green Day at Wembley Stadium
A few people were late back to our bus. I took the chance to buy a £2 knock-off poster from a man who said our driver was 'bein' a bit of a funny bugger.' Before we boarded, the driver said there was no way he could possibly drive off without us, because he'd remember my hair. The lights of Wembley Stadium faded away. I was jolted awake at a service station stop. We all piled off the bus. I nearly left my bag and merch, but I thought better of it. I left the knock-off poster. We bought a couple of cold drinks. My mum had been chatting to another passenger, moments before we went back outside. Where had the bus parked? We couldn't see it anywhere.
That was because it had already left.
This is hilarious now. At the time, it was not remotely funny. It was 2am. We were stranded at a service station, in the middle of the M1, miles from Nottingham when we needed to be back in a few hours to catch the train to Glasgow. The summer heat faded to a chilly night. All we had for warmth was our Union Jack. This wasn't even a regular National Express service. It wasn't like another one would come by in a few hours.
A long-haired man who felt sorry for us bought my mum a coffee. We stared hopefully at the tired drivers passing by but no one was going our way. Our only hope was to contact National Express. We scanned our tickets and found an emergency number. I was fairly sure it wasn't for Green Day fans stuck on the motorway at 2am, but it was our only hope; so with my remaining 10% battery, I called it. A grumpy voice picked up.
'Hi. We've been stranded in the middle of the M1.'
'What do you mean, stranded?'
He argued that it was our own fault. I argued it wasn't. The driver just didn't count his passengers after saying he'd never miss us because of my hair. Eventually the man sighed.
'What service station is it?'
He agreed to divert a coach from Stansted and told us to go outside immediately. We waited for what felt like hours in the cold. Only cars and trucks rolled past. The bus wasn't coming. My mum called them back (noting that this guy sounded like her call woke him up, which improved the scene). The bus was coming in half an hour, he said. It was an hour later when a Veolia coach turned into the car park. The driver's assistant sat down to talk to us.
'Were you at a football game?'
'We went to see Green Day.'
'What? Green… what?'
'A band. An American band. Green Day.'
He looked lost. We suggested American Idiot. Wake Me Up When September Ends. Boulevard of Broken Dreams. He shook his head.
'What kind of music is it?'
'Rock. It's like rock. Punk rock.'
'Punk… rock!' he told the driver, 'A punk rock band called Green Day!'
We arrived in Nottingham as the sun rose. Whether we'd make our train to Glasgow was another matter. Our train and Green Day tickets were at home. We leapt into a taxi. Nottingham city taxis go as slow as possible and take the longest routes to maximise the fare. We explained our situation. The driver asked if either of us were available for marriage. We changed the subject.
Well past our 24th hour of no sleep, my mum called another taxi while we rummaged for our tickets and threw clean clothes into our bags. We made it to the station with minutes to spare. After our train to Preston was delayed, we narrowly avoided missing our change by blocking the door with our bags. Someone was in our seats and we didn't even bother questioning them. We just stood, basking in the relief of surviving Newport Pagnall service station.
A blue sky welcomed us to Glasgow. Misunderstood accents led to us buying the wrong onward tickets to the SECC. We escaped before the conductor reached us. From the station, we walked through the 'SECC Walkway.' We fondly nicknamed it 'The Oven.' Ever spent too long in a greenhouse? It was like that but worse.
In The Oven
We checked in and dumped our bags, finding ourselves in another episode of There's Nothing Here. The only way out was back through The Oven. We chose being baked over more videos of us spinning on chairs in the hotel room. A chip shop offered a cheap meal. My sausage was rejected and cold. We walked back through The Oven to find the SECC was actually open and had a shop. The sausage was unnecessary.
We saw a bit of a river and a bridge the next day. Doors were still hours away. Unsure what else to do, we resumed aimless wandering. We thought someone was washing the stage trucks but it was just a guy having a piss. Sometimes I think that now I line up early, I miss all the sights, but I really don't.
The River Clyde, Glasgow
Other fans were waiting for the band, so we joined them. I wrote '¡VIVA LA GLORIA!' on my arms and held our Union Jack. Billie and Tré wound their windows down as they arrived in black cars. Tré stuck his tongue out. We chatted to a crew member who was amused by our National Express story. As soundcheck rumbled from inside, the first song we heard was ¡Viva La Gloria! so I guess that was more successful than seeing merch through a window in Hannover.
Our Union Jack outside the SECC
Doors opened. Fans trooped into the rectangular room. Joan Jett and the Blackhearts opened again. Billie wore a fan's tie bearing the Armstrong family tartan. He wound up the crowd with statements of 'fuck England!' and 'so much better than England – Scotland always is!' After one he grinned at us, as if expecting us to be pleased. Thanks, but I'm not Scottish.
In East Jesus Nowhere, Billie 'saved' a pair of twins. While a fan sang Longview, he took a toilet break. They played Waiting again. The arena show was intimate after stadiums. Coincidentally, the confetti was also the colours of the Scottish flag. Scooping it up after the show, all of this was still surreal. Also surreal that PCL Presents managed to get something right.
While my mum smoked a cigarette outside, a man asked if she was with the band. She said no, he replied 'come here hen, ave got a picture o' ye wee man' and showed her photos of Billie, and not so wee Mike, at the airport.
Joan Jett's drummer ate breakfast a few tables from us. Our hotel recommended some things for us to see, but we had no money left, so we just sat on some plant pots watching an incredible number of people cycle by. Glasgow is an active city, apparently.
It shouldn't come as a surprise that we then missed a connection and spent the night on a bench in Manchester Oxford Street Station. I put my remaining pennies in a vending machine. Nothing came out. Of course it didn't.
We were still exhausted when we boarded the train to Paris. Our fellow passengers thought being on the Eurostar was very classy, then there were these two Green Day fans munching cheap snacks. Emerging in the city centre, we took the metro to our hotel in the suburb of Saint-Cloud. Green Day's crew were drinking in a bar opposite. For our dinner, we had the rest of the crisps we brought from home and some packaged ice-cream from a convenience store. If we craned our necks, we could see the Eiffel Tower from our window. Before the show, we actually – you might want to sit down for this – went to see it. We saw something! Sightseeing! It was a gr8 day. Even spotted someone else in the same Green Day shirt as me.
Me at the Eiffel Tower
My mum at the Eiffel Tower. We bought some of those souvenirs for five for €1 and when my aunt found the one we gave to my grandparents, she insisted it was a valuable antique
On the way back, I saw another Green Day shirt and complimented it. I never expected the wearer to launch into a verbal essay about their Green Day experiences, how important they were to the band and – after asking how many shows we'd attended – how irrelevant we were in comparison. We laughed it off, because it was ridiculous, but that was the moment we realised what came with multiple shows. Anyway, we met some nice Swedish fans afterwards to restore our faith in humanity.
Tour merch in Paris
At Parc des Princes, we found our seats and danced to Billy Talent's set. Paramore followed. Then we were waiting, once more – with a new friend, the Paris native next to me – for Green Day. We clapped along as they ran onto the vast stage. Billie's commands to stand up were unnecessary. Everyone already was, filling the stadium with a deafening chorus of 'hey-oooooooh!'
'Know Your Enemy is about empowering yourself, like within yourself. There's no specific enemy out there. It's just trying to stay engaged and educated to the world – being able to read between the lines and figure out what the bullshit is, but also trying to find the truth.' – Billie Joe Armstrong, MTV, 2009
In Know Your Enemy, he waved the French flag and hugged a kid from the crowd. It was our second show out of the UK and hearing Billie scream 'PARIS!' was surreal. For my mum, hearing him thank us in French after living much of her life in Brussels and Geneva was incredible. In the Holiday bass solo, as red text scrolled over black screens, Billie told us in a French accent that they were going to play all night long, before singing a verse of The Saints Are Coming.
'I cried to my daddy on the telephone, how long now? Until the clouds unroll and you come home, the line went. But the shadows still remain since your descent, your descent. The saints are coming! The saints are coming!'
The crowd completed the chorus. Then Billie announced 'the representative from Paris has the floor!' and the show resumed. Stageside, Hayley Williams fangirled to The Static Age. I waved my (new, Union Jack replacement) England flag. We heard Nice Guys Finish Last and Geek Stink Breath. It was almost 40°C and people were passing out in their seats. Others did the conga through seats below. Fans jumped in unison through the pit. Chants of 'Green Day! Green Day! Green Day!' filled moments of silence. The atmosphere was intense.
The sun set as fire rained down in 21 Guns. Billie held up his acoustic guitar, magnified by the huge screens, through the piano bridge. 'Merci, merci, merci, merci, merci, merci beaucoup, thank you Paris, France!' he yelled as drum rolls led to Minority. We watched confetti cover the stadium like shooting stars against the setting sun. As the show closed with When It's Time, Wake Me Up When September Ends and Good Riddance, rain pattered down and the floor was a sea of 'thank you' signs. They inspired the signs that later named Awesome as Fuck. We left, drenched in sweat and spilled beer, picking up two discarded posters that have been on our wall ever since.
Sunset over Paris
That was our last show… or so we thought. When we watched videos of the secret shows leading up to this tour, from Oakland and New York, we laughed and said 'imagine if we could see them in America one day?' It seemed impossible for a single parent family who'd never had a holiday until the excitement of Hannover Expo Plaza. Transatlantic flights back then weren't cheap. But we wanted to see Green Day again, and going to America was the only way. It had to be the last few shows. Otherwise we wouldn't have time to save up. So, we spent the summer selling our possessions while mortgage arrears stacked up, living on toast. Our destination was California. San Diego, LA and the Bay Area.
We were late to the party, though. The only tickets available were from scalpers. It soon became clear we couldn't afford three shows. San Diego would have to go. LA tickets were too expensive. What did we do? We couldn't afford this. I tentatively looked up flights to, and tickets for, the prior Phoenix show; even though it meant staying extra days we couldn't really afford. Well, it was see one show or find a way to see both. So of course, we chose finding a way. We put down a deposit on a flight. As departure drew closer, things weren't looking good. Up until the last minute, when we were able to borrow some money, it was uncertain whether we could even go. We arranged with our Arizona scalper to meet him in the hotel lobby. Then, before we knew it, we were on a plane to Washington, DC.
The queue at Immigration inched forward agonisingly slowly. At this rate, we'd miss our connection. When we finally reached the front, they took our fingerprints and stamped my passport. They didn't stamp my mum's. On her Immigration slip was a huge X. A clock told us we had 30 minutes. Our flight was boarding. Then security stopped us.
'You gotta go to immigration. That room over there.'
We were confused. Uncertainly, we took steps in the direction they pointed. We were eventually directed into a small room filled with confused passengers and people in handcuffs. A lady took our passports in silence. They were at the bottom of a large pile. We heard someone else ask about his connecting flight.
'It's not your connection you need to worry about. Your main concern is whether you are going to be admitted into the United States.'
With 10 minutes left until our flight, my mum stepped up to the desk. 'We're going to miss our flight to Phoenix!'
'You shouldn't be worrying about your flight to Phoenix. You should be worrying about whether you'll be admitted to the United States.'
Five minutes to take off and we were stuck in a room with Homeland Security who made me cry. When they finally called us up, they handed our passports back without a word. We've since found out it's because my mum shares her name with a criminal, but at the time we were just confused.
Our flight was long gone. The corridor outside was empty but for a baggage attendant.
'Where ya going?'
'Phoenix. But we've missed the flight.'
Without warning, he snatched our bags and threw them on a conveyor belt. Our bags containing our documents and worse yet, receipts for our Green Day tickets, which we'd need to show the scalpers (having since worked for an airline, that stupidity pains me). My eyes were wide.
'But – but where are they going? We've missed our flight!'
The man looked bewildered. 'They're goin' on the next flight to Phoenix. You'll get 'em in Phoenix.'
Me and Cone from Sum 41
Then he turned to chat to a friend. Feeling lost and like seeing Green Day was a distant dream, we went through security again and got directions to customer service. We were on our way when my mum grabbed my arm. 'Maria, it's Cone!'
Indeed, Cone McCaslin from Sum 41 was wandering along beside us in Washington Dulles Airport. Sum 41 were my second favourite band at the time. I ran the UK fansite. Cone was my favourite member. I was going to see Green Day in Phoenix. What were the chances of this? But there he was. I said hi and even though his flight was boarding, he took 15 minutes to talk to us. He was at Green Day's Toronto show that month and loved it. He said he'd remember my hair and was kind enough to sign the only paper I had on me, the 21st Century Breakdown booklet. Without a doubt, he was one of the most polite people I've ever met. I always wonder if he missed his flight because of us. I hope not.
Every flight to Phoenix was full. United put us on a flight to Denver to connect there. The lady on the desk said 'I'm gonna give you these boarding passes and you're gonna run.' So we ran, promptly stopping to buy a Washington shirt. This was ridiculous and I wanted to remember it, after all. We arrived in Denver on time. The only notable thing on our flight to Phoenix was a guy getting so excited about his hometown he shouted 'PHOENIX!' at regular intervals. After 48 hours of travel, we arrived… and there were our bags, looking sad and neglected in the lobby of Phoenix Sky Harbor Airport. A shuttle bus driver, who said 'I thought you were a werewolf!' picked us up. The hotel were about to cancel our booking. We were just in time.
Cone's autograph in my 21st Century Breakdown booklet
Phoenix, AZ from our hotel
Our scalper met us in the lobby the next day. He told us it was awesome we'd come from England and advised us to drink lots of water. We hopped in a taxi to the amphitheatre. Doors had long opened and AFI, the opening act, were closing their set. Which was a shame because they sounded great.
Green Day stage in Phoenix, AZ
'I think of rock 'n roll as being the ultimate American culture. And I always look at that and feel like that's what I'm playing too, and that's what I want people to look at: this is the good side of America, this is the side that doesn't just settle for the grand scheme of things.' – Billie Joe Armstrong, Rolling Stone Magazine, 2006
With my England flag in Phoenix
It was like everything leading up to this was a five-second dream. I was sitting in England, then I was suddenly there in the dry Arizona heat, surrounded by palm trees; hearing Song of the Century, the closest I'd ever been to a stage Green Day were about to take. Around us, the crowd chanted 'Green Day! Green Day!'
Then the band ran on – Billie with his blond hair and striped jeans, Tré in shorts, perfectly drawn Mike, Jason in a blue jacket – in perfect clarity.
'Buenos noches Phoenix, ARIZONA!'
I have no words to describe what hearing that for the first time was like. My words caught in my throat as I sang 'dream, America, dream' there, in America. I could have cried, broken down in tears of joy, but I danced them away to Know Your Enemy. We were living a dream that once seemed impossible of seeing our favourite band in the United States. In East Jesus Nowhere, Billie pulled up a kid called Alexander, stealing his earmuffs and helping him play his Les Paul Jr.
Billie spotting us in Phoenix. Video by Sheri Hunter. All others posted from this show are mine.
'Security, security, get rid of this kid! He's gonna steal my pot! Alex, do you wanna start a fucking war?'
I was as thrilled as any local with Billie's every roar of 'are you ready, Arizona?' In the Holiday bass solo, the amphitheatre flushed red by lights and scrolling text, Billie ran over to our side. He spotted us, grinned and pointed.
'The representative of Arizona now has the floor!'
Pyros exploded with Billie's 'bang bang!' as on the screens, troops marched in black and white. Drum rolls led to Murder City.
'The clock strikes midnight in A-RI-ZO-NA!'
Murder City live in Phoenix
'The clock strikes midnight in A-RI-ZO-NA!'
Then it cut to Give Me Novacaine. 'Oh, it's so hot, it's so hot, I think I'm gonna take all my fucking clothes off. Whoever gets naked tonight gets 50 bucks!'
Billie Joe Armstrong in Phoenix
We chorused 'heeeeeeeey-ooooooooh!' to tinkling piano. The crowd waved, at Billie's command, from the pit to the lawn in sync. Instead of 'Jimmy says it's better than here,' he sang 'Arizona's better than California!' and I screamed approval with everyone else. It ended with 'give me the entire state of Arizona!' Billie couldn't have reminded us where we were any more if he tried.
Then Tré began the intro to a ferocious Letterbomb. It was my second favourite song at the time, after only ¡Viva La Gloria! and it was the first time I'd seen it. I went insane. I was screaming, the lyrics, just screaming, turning my voice hoarse and jumping until my legs were weak.
'This is it! The time is right now! This is it! There's no fucking job you've gotta fucking go to! There is no boss! There's no bullshit! There's no computers! There's no television! There's no cellphones! There's no fucking school you gotta report to! This is it! This is the opportunity right now! This is your fucking freedom! Are you with me, Arizona?'
Letterbomb in Phoenix
Me dancing to Letterbomb for the first time
Some fans criticise Billie's Letterbomb speeches. But you know what? He was right. That was our freedom and I was liberated, with Arizona as we screamed to tell Billie yes, we were with him. As Tré began Are We the Waiting, Billie announced 'my aunt is out there in the crowd tonight! She's a resident! Right here in Arizona!' before singing 'are we, we are! And screaming…' and holding up his mic for the crowd to echo him. I had one hand on my heart, one in the air, screaming 'heads or tails, fairytales in my mind.' I felt like Jesus of Suburbia, escaping to a fairytale city to live 'the rage and love, the story of my life.' In St. Jimmy Billie roared 'are you talking to me? Are you screaming at me?'
Mike Dirnt in Phoenix
After the crowd sang the first verse of Boulevard of Broken Dreams, Billie placed his guitar down. He proceeded to attempt a headstand. He soon fell on his ass, but he just got back up, did a dance and announced 'I'll fucking do anything for fucking Arizona, I'll tell you that!' The song was anthemic.
'If you take a song and you get enough people singing it, it becomes an anthem, and an anthem becomes the national anthem, to a degree. I love people when they join together and sing, and it's just massive, and it's done for the right reason. Even if it's just a great party.' – Billie Joe Armstrong, Rolling Stone Magazine, 2006
Billie caught something from the crowd, threw it out, then grinned.
'We're gonna play a brand new song.'
My mum and I glanced at each other with wide eyes. We had no internet and no idea what they'd been playing.
'It ain't that brand new. This song's called Cigarettes and Valentines!'
We didn't know the words, but with the strangers around us, we jumped and danced as if our lives depended on it. It couldn't have been more appropriate that it was here, in the Valley of the Sun, we danced and screamed to 'the end of the earth, under the valley of the stars.'
Cigarettes & Valentines live in Phoenix
The Cigarettes & Valentines performance on Awesome as Fuck
Burnout followed. If I thought this couldn't get any better, I was wrong, because then they played One for the Razorbacks. I was drenched in sweat, watching people pass out around us, but I felt like I could pass out and stand straight back up. In 2000 Light Years Away they invited as many fans as they could fit onstage. Security guided them up, they danced, then were escorted back off. The regular oldies section followed. Seeing it here was like seeing it for the first time all over again. My mum and I were our own mosh pit, dancing and shoving and grabbing the other's arm to scream our favourite lines. King for a Day's fun dissolved into 21 Guns. Billie spoke into the internal microphone as he returned onstage to rolling drums. We expected Minority.
'Sing us a song of the century, it sings like American Eulogy…'
We heard American Eulogy, in America. This mass hysteria was like the entire show's rage, love, energy and passion rolled into one triumphant, dazzling climax as confetti exploded around us and the band.
American Eulogy in Phoenix
American Eulogy in Phoenix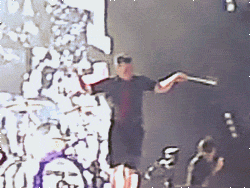 Tré Cool conducting at the end of American Eulogy in Phoenix
The crowd stilled as the show closed once again with Last Night on Earth, Wake Me Up When September Ends and Good Riddance. No dream of seeing Green Day in their home country could ever have prepared us for this reality. It was better.
Jesus of Suburbia in Phoenix ft. my mum's head
One of Billie's then-infamous 'ho as hell' tweets. Good to know he liked American Eulogy as much as we did.
After our first American show
The next day, we one-upped the Eiffel Tower and went to the Grand Canyon, stopping in Sedona on the way. It's still one of the most breathtaking things I've ever seen and I have no doubt that without Green Day, we'd never have visited.
On the road to Sedona
Sedona, AZ
Back on the road to the Grand Canyon
Here we are: the Grand Canyon
Me at the Grand Canyon
My mum in her Green Day Paris shirt at the Grand Canyon
Us at the Grand Canyon
This is one of my favourite photos ever.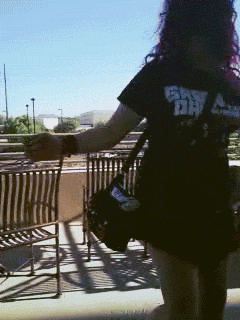 Me dancing the next day, recalling the Phoenix show
We landed in San Francisco to find we had, yet again, managed to book a hotel with no connection to civilization. Well, OK, there was one escape route. We got on the airport shuttle, which dropped us in Burlingame, where we could take the CalTrain to San Francisco.
Golden Gate Bridge
In San Francisco, we broke our own sightseeing record and crossed Golden Gate Bridge. The sky was cloudless blue.
Looking not very candid at Golden Gate Bridge
San Francisco from Golden Gate Bridge
Bridge: crossed
As we walked back, thick fog blanketed the bridge and city until we could barely see. We got to see two sides of it in one visit. It was cool until we found it caused most public transport to stop running. We wandered until we found a driver who felt sorry enough for us to take us back.
Foggy Golden Gate Bridge
Foggy San Francisco
We passed the rest of the time Hannover-style in Burlingame, where we lived on Walgreen's buns, because we could only afford one more CalTrain and that had to be to the show.
Sunset over Burlingame, CA
Burligame CalTrain Station
Arriving in Mountain View
'Music is inspiring for me, it's changed my life, so yeah, I absolutely think music can inspire people to change their lives.' – Billie Joe Armstrong, Absolute Radio, 2009
On show day, we got off the train in Mountain View and walked through clean streets to the Shoreline Amphitheatre. Christian protests surrounding it went ignored. Scalpers met us on the driveway, where they upgraded our tickets for the all-seated show, placing us next to Mike.
Christian protest against Green Day's show at the Shoreline Amphitheatre. I forgot to repent.
Green Day merch at the Shoreline Amphitheatre. Tré did an interview at the Live 105 tent earlier that day.
Shoreline Amphitheatre, Mountain View, CA
Us at the homecoming show
We caught AFI's set this time. Halfway through, Green Day invaded the stage in animal costumes. Singer Davey Havok went on to play St. Jimmy in the American Idiot musical. You should check them out.
Green Day crashing AFI's set in animal costumes at the Shoreline Amphitheatre
Darkness was falling when Song of the Century echoed through the amphitheatre. This was it. The homecoming and final show of the North American tour. It was filled with fans from the Bay Area to Japan to Australia.
The band ran onstage together. Billie screamed the names of every unfamiliar town we'd sped past on the CalTrain.
'Home! Home! I am fucking home! It's been fucking months! But Green Day are back at home! In the fucking Bay Area! However… if you don't mind, I'm gonna refer to this night as Rodeo, California.'
Mike pointed at my England flag and stuck his tongue out. When he walked out, he beckoned for me to high-five him. Instead of 'saving' a kid in East Jesus Nowhere, Billie pulled up an older lady who 'saved' him.
Green Day playing East Jesus Nowhere at the Shoreline Amphitheatre
They played Murder City and Letterbomb again. My voice that had just recovered from Phoenix was hoarse already. The seats restricted no one. I was directly in Mike's line of view and for much of the show he pulled faces and interacted with me. I rocked out with Mike Dirnt and I'm still not over it.
We knew a few of the words to Cigarettes and Valentines now, but it was like seeing it for the first time all over again. After Geek Stink Breath was Coming Clean. Billie announced 'this next song is about revenge!' before Going to Pasalacqua. Everyone was jumping to Only of You. It was followed by an explosive performance of Paper Lanterns. That bled into 2000 Light Years Away. They invited fans on stage. The people in front of me were screaming at me to go. My mum was pushing me. I shrugged and said I didn't want to. By the time I realised both Mike and Eddie (band security) were beckoning me, it was too late. I'm honestly surprised I ever ended up on stage.
In 21 Guns, during that bridge I loved so much, Billie thanked us all for the last 22 years. It was beyond surreal to hear that where it all began in the Bay Area. Then we were thrown back into American Eulogy.
I can see, clear as if I'm still there, Billie spinning around as he played the solo. I can still hear the roar of 'Bay Area!' and see the confetti covering us. I can still see the band returning to play Last Night on Earth and feel the tears in my eyes as I looked up at the night sky. Not going to lie, I was head over heels for my now fiancee Annabelle who was at the show, but too stupid to realise. I remember thinking 'I don't know who you are, but I love you,' and knowing, somehow, that whoever it was felt the same way. A year later, we danced to Last Night on Earth in my living room.
Green Day at the Shoreline Amphitheatre
This lady asked for a photo with us so here it is
The tears were still streaming down my face as we left because it was over. This adventure, this journey I'd taken with my favourite band that had undoubtedly changed my life, came to an end. We packed our bags and caught the shuttle to San Francisco Airport. California disappeared below the clouds.
We hadn't even considered the Latin American tour. So of course, we got home and looked it up. This story has been retold by others in various ways, from 'Joy and Maria randomly decided to go to Latin America 24 hours before the show!' to 'Joy and Maria went to [insert Latin American country we didn't actually go to] for 24 hours just to see Green Day.' None are exactly accurate.
Our options were Caracas (before the terrible crisis Venezuela is in now) or Costa Rica. Flights elsewhere were too expensive. We settled on Costa Rica. It was the last show and gave us longer to save up. Every day was spent photographing eBay items and packaging them. It was mentally exhausting. My eyes were sore and bloodshot from staring at the screen. Our chances of making it still seemed low. With one week left, we emptied most of what remained in our house onto eBay for whatever low price it would sell at. We couldn't even carry all our parcels to the Post Office. My grandpa kindly drove us with his car piled high.
Me sticking cardboard over a window to get the best light for eBay photos
'I got my education through punk rock. It may not be the biggest education in the world but I formed opinions and views on the world and society, feminism and racism through it. I think it changes individuals.' – Tré Cool, Big Cheese, 2004
Our countdown to our stupidest adventure yet
If I went to this show, I'd miss a crucial Maths exam. My only option if I did was to take a much more difficult one. Teachers assured me I would fail it. Regardless, with less than 24 hours to go, we crashed into STA Travel and booked everything. We had no tickets to the show. Just some National Express tickets printed on STA Travel paper and flights to San José, Costa Rica.
That night, we were on a flight to New York. My mum was, of course, taken to 'the office' and we were, once again, at risk of missing our flight to San José. If we did, we would miss the show.
We escaped to find someone had walked off with my mum's bag. Staff shrugged, said it was probably on its way to San Juan and told us to file a report in San José. I was then held up by my illegal cargo, some sour cream and jalapeño crunchy combo mix that travelled all the way from Nottingham just to be told it wasn't welcome. Rude. We ran and made the flight. In the seat beside us, someone was making a 'St. Billie' tapestry. We thought it had to be a bizarre coincidence but no, she was indeed a Green Day fan from New York heading to the show.
It was a relief when we arrived in Costa Rica and my mum was let straight in. She described it as 'I could see the screen and it had like a big light bulb on it, and it said something like "green light, no problem, admit this person!" I love Costa Rica.' We got into a taxi with our fellow fan from the plane. The next day we were in another cab on our way to Estadio Ricardo Saprissa, stopping briefly at a Masxmenos supermarket to buy our tickets. We joined a long line at the purple-painted stadium. Men with coolers walked up and down, shouting 'agua!' while others offered sunglasses and umbrellas.
Green Day line in Costa Rica
Sitting on bird shit in Costa Rica
TV crews arrived and filmed our England flag. Other fans posed with it. We bought knock-off wristbands and shirts. Our new friend Alejandro entertained his mother during a phone call with 'I'm with two British girls! No, really! I'm serious!' He and I went to a nearby McDonald's to get food and on our way back, thought we could hear Nice Guys Finish Last. Both of us cursing in English and Spanish, we ran, avoiding potholes and cars that honked as we charged in front of them. Turned out to be techs just testing the drums. Oh well.
Me and Alejandro
After we appeared on Costa Rican TV
Green Day line in Costa Rica
We met up with others from England, Honduras and the US who we knew from the Green Day Community forum. Sitting on bird shit in Tibás, Costa Rica, probably should have been the moment we knew Green Day had ruined us, but honestly? There was a sense of community I wouldn't have traded for the world.
Me and Alejandro with my flag
It was dark when doors opened. Security sorted us into male and female lines. When I ran for front row, my trousers fell down. Twice. After that, we made second row. There's a reason I only wear leggings to shows now.
In the pit, we made two more new friends, Silvia and Adriana. We're still in touch today. The local opener, Bufonic, were great.
Then, Song of the Century echoed into the night for the last time. We were in Costa Rica, about to see Green Day. I will never, ever, forget being diagonal, off my feet, as I looked up at Billie to see him put his mic aside to check he wasn't seeing things, then give me the most incredible look of 'what the fuck are you doing here?' I will ever receive.
'What the fuck are you doing here?' – from videos by reinierocks and lostincoma
In East Jesus Nowhere, Billie 'saved' a man on crutches. Watching him wave the Costa Rican flag was like a bizarre, but wonderful, dream. I unfortunately had to give up the spot after being mugged and finding my passport was gone. Silvia kindly came with me. I should have been afraid, having been attacked in a foreign country with no passport to get home, yet as Billie and Mike ran over to point at me in Holiday, I felt safer than I ever had in my life.
Mike pointing at me in Holiday
And now Billie
The attack went over my head. It was a minor inconvenience before we resumed dancing in decent new spots. After Holiday, Billie headed to the internal mic. I heard piano.
They were playing ¡Viva la Gloria!
I was hearing my favourite song, the words that gave me hope when I thought there was none, in Costa Rica. I couldn't believe it. There are no words to describe the unconditional happiness I felt then.
'Don't let the bonfires go out, Costa Rica!'
Singing Give Me Novacaine, Billie one-upped 'Arizona's better than California!' with 'Costa Rica's the best country in the world!' and 'at home in Costa Rica!' That was certainly how I felt. As the show went on, he repeatedly checked I was alright. We exchanged funny faces and he pointed as we screamed lyrics at each other. Even Tré, who I was sure had no idea I existed (and I'm sure he no longer does), nodded and smiled as he threw out drumsticks. I'd never felt so connected to my favourite band. In Are We the Waiting, local fan Isabel who I knew from Green Day Community got onstage. Billie waltzed with her.
The dreamlike fuzz only intensified as One for the Razorbacks was followed by Brat, One of My Lies and Only of You. Then Tré switched places with Billie for Dominated Love Slave. They swapped back for Disappearing Boy. I felt like we were all in a bubble, on a separate plane to the rest of the world, with Green Day. Screaming until my voice would no longer come out to I Was There, I knew I would look back, thinking I was there, for the rest of my life. Road to Acceptance was next. I'd lost my mum, but I knew somewhere in that crowd, she was losing her voice to Waiting. After Christie Road, Billie announced 'this next song was one of the earliest songs we've ever written and I gotta fucking tell you, it's my fucking favourite fucking song to play right now! So right now, I want everybody here to lose your fucking mind and go crazy and dance, are you ready?!' and pyros exploded to Paper Lanterns. I waved my flag and Billie pointed as we yelled 'to this day I'm asking why I still think about you!' at each other.
In 2000 Light Years Away, after thrilled fans danced onstage, Billie commanded us to wave as we echoed 'CO-STA RI-CA!' to the bassline. I still get that stuck in my head every now and then. Fans posed for a photo with my flag before Hitchin' a Ride. I waved it when Billie asked for a drummer in Knowledge. He considered it for a moment before shaking his head, smirking, then went to find his son Joey.
King for a Day
'This is the last show… you wanna keep going?'
The crowd roared approval. Extraordinary Girl provided a poignant prequel to 21 Guns. I had never bellowed anything as loud as I screamed 'one, 21 guns!' or 'like a liar looking for forgiveness from a stone!' in my life. I was crying, my whole body wracked with sobs that had waited all the years I was unwell to come out. Because I had so much to fight for.
In Minority, I wanted so desperately to scream 'no, thank YOU!' back at the band who not only blessed us with such a set but treated me with such kindness; yet I felt at the same time I didn't need to. Rain fell as Whatsername began the encore. It was one of the first Green Day songs I ever heard. Listening to it on radio.blog.club, trapped at home with my Canada 3000 headphones from the charity shop, I never imagined I'd hear it live… let alone 5,375 miles from that home, smiling through tears in Costa Rica. My voice was trembling as I sang with my arms raised high.
As Good Riddance closed the tour, I sang 'I hope you had the time of your life!' with what little remained of my voice. They played almost four hours. I had the time of my life. More than I could ever have imagined. I found my mum and Alejandro after the show. They loved it. Everyone was buzzing on a Green Day high. We were all still smiling as we spoke to staff about my passport. 'Where are you from?' one lady asked my mum as she blathered a mixture of Spanish and Portuguese. Who cared? We'd sort it out somehow.
While we're here, I'd like to share another fan story from the We Are Revolution Radio book. This one is by Isabel who got on stage for Are We the Waiting.
Story by Costa Rican fan Isabel from the We Are Revolution Radio book
We walked through dark streets, stepping over cockroaches, to Silvia's car. Thanking them for the lift, we parted with hugs and a gift of Silvia's amazing gun earrings.
The 21st Century Breakdown Tour was over. But the next day, as we waited at the police station to report my stolen passport, there were no regrets useless in our minds. Unable to get hold of the British Embassy the day before our flight home, we resigned ourselves to being stuck in Costa Rica and went to Volcán Irazú and Cartago anyway.
Fog over Volcán Irazú
The main crater at Volcán Irazú
I might have been stuck here indefinitely, but at least it was beautiful
Cartago, Costa Rica
Heading back down to San José
On our way back, I got an international phone call. Hoping it might be Annabelle, I answered to the unimpressed voice of my aunt, who has described the relief she feels when she imagines shooting us over Green Day. Needless to say, she did not know we were in Costa Rica.
'A man in Costa Rica has called the number in the back of your passport to say he's found it.'
'…Oh.'
'Where the hell are you? You're not telling me you're in fucking Costa Rica?'
On the road in fucking Costa Rica
I was, of course, telling her I was in fucking Costa Rica. She gave me the mystery man's number and hung up. We called him on a hotel phone. He said he'd found my passport discarded on the floor at the stadium and, after realising we did not understand Costa Rican addresses (have you ever seen one?), arranged to meet us outside. When we got downstairs, the passport was at reception. To be honest, I was a bit disappointed I wouldn't get a new one saying it was issued in Costa Rica.
Please don't get the wrong idea about Costa Rica because of the passport incident. The people I met there were some of the kindest and most welcoming I've ever met. I've experienced equally bad behaviour – for far pettier reasons – from European and North American fans. The same thing could have happened anywhere.
'21st Century Breakdown is sort of a collection of photographs, or ideas, or circumstances that have happened within the past five years. Whether it's a different crisis or a natural disaster, or a financial breakdown, people losing their homes… revenge or whatever, there's a lot of personal and political things going on in the record. It goes through a sort of dark tunnel with different themes, to hopefully find some sense of hope at the same time.' – Billie Joe Armstrong, Radio NRJ, 2009
On arriving home, I passed the exam I was assured I'd fail. Two years after our first show, we sat on white folding chairs on our drive. Our remaining possessions were scattered around us, our keys in the hands of a sympathetic bailiff, as we waited for a moving van to take us to sleep on my grandparents' floor. My mum's UN pension disappeared with the house that was no longer ours. The words 'Green Day' stared at us, in white spray paint, from our green bin. We laughed. We cried a bit, too. But we regretted nothing.
Green Day are the faces of an inclusive culture from a little punk club in Berkeley. East Bay punks can criticise them all they want. With Green Day shows, their culture tours the world, becoming accessible to everyone and you know what? It doesn't get much more punk than that.
21 Guns brought me to tears on this tour because I was no longer sure life was worth the fight. Two tours later, alone on the front row in an English arena – like the very one I had to eave in Birmingham – I couldn't stop myself crying in Still Breathing. Because I knew, thanks to Green Day, that person who almost gave up no longer existed.
I could have chickened out of ever boarding that train to Birmingham. It was a bit like the moment of fear before, seven years on, I stage dived in Champaign, Illinois.
As I walked out on the ledge,
Are you scared to death to live?
Boarding that train, jumping out into that crowd – they're like bookends to how terrified I once was to live.
But I did jump. I did live.
Did music save my life? Not literally, no. I saved myself. But would I have found the inspiration, the hope, the will to save myself without it? No way.
Hey, 14 year-old me –
You found a home in all your scars and ammunition. Don't ever put away your burning light.
Thanks Green Day for bringing us the season we always will remember.
¡Viva la Gloria!
Disclaimer: all of these photos were taken with a cheap phone camera long before I studied photography.